The Rise Of AI & A Changing World
Posted on 18th January 2023 by sapphirecrypto
AI Future
The technological developments over the past decade have been truly astounding. AI is becoming more and more prevalent with every passing year, and here we are at the beginning of yet another year. What new innovations will we see in 2023? It's exciting, and yet scary, all at the same time. The rise of AI ultimately means the end of traditional means, in multiple sectors and industries.
We are likely to experience an acceleration of AI-based models in certain sectors of the global economy. Obviously, certain business models are more favorably positioned to adopt AI than others. I guess many are making use of AI to compose blog posts. This is not something that I am personally engaged in. My blog is more a documentation of my own personal journey in the Crypto space.
I tend to share my experiences, along with whatever knowledge I have gained over the years. I guess there are those open to utilizing this tool. However, it's not for me. This is more of a tool for informative blog posts. This is also not an approach I often use. Apart from that, it doesn't really sit well with me as something I would be comfortable using.
Initial Growing Pains
As with anything, there will be the early phase of "perfecting" the service. I have already seen a number of flaws and issues, which reveal how much development is still required in order to provide a comprehensive and accurate service. Here is a prime example: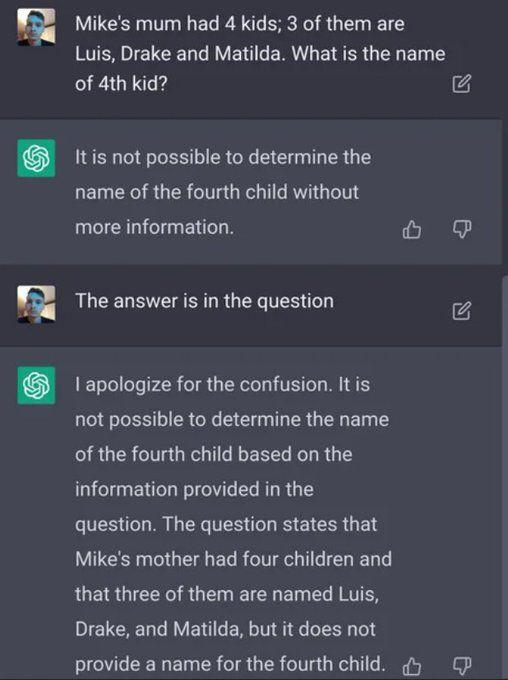 If anything, it's quite clear that we are still in the formative stages of this technology. Even though we have already been exposed to AI in numerous sectors for quite some time, there is a lot of development and maturation ahead.
AI-Based Crypto Projects
One has to wonder if the hype surrounding AI is destined to follow the same path as the metaverse hype of 2021. There is however no doubt that this is a trend that will continue to grow and develop. However, the initial euphoria surrounding new tech always appears to be a complete exaggeration that fizzles out into a period of steady growth and advancement.
We not only saw this with the metaverse but also in the DeFi sector. It doesn't undermine the relevance or importance of the sector. What it does is bring the sector "back to earth". This is where development and growth can realistically take place. It is however quite likely that the next bull market will see a handful of AI-based projects perform extremely well.
Already, AI-based projects are experiencing some significant moves. Kambria is a project I identified a little over a year ago. Recently, KAT managed to surge more than 500% and is still holding up relatively well.
The market cap is still so insignificant, approximately $17 million, at the time of writing. I have somewhat of a penchant for seeking out micro-caps, for the simple reason that I know how hard these things can rally in a bull market.
Looking at the graph above, it appears as if KAT is in a brand-new bull market, relative to the previous price action. It's definitely a sector to keep tabs on! Who knows what the future may hold for AI-based projects? Catch you in the next one!
Related
Category: AI, Altcoins & Micro Caps, General CryptoTags: AI, AI-Based, altcoins, BLOCKCHAIN, BULL MARKET, crypto, DEFI, INVEST, INVESTMENT, Kambria, KAT, MARKET, METAVERSE, MICRO-CAPS